Yesterday I sent my mom a TikTok with a Sphynx cat wearing a cute sweater. "You need to get married and have a child," was her response (as expected) but she was obviously amused by this cat. Even though I feel a bit cautious about the idea of owning such a cat, I have to admit that they are quite charming.
Sphynx cats, and hairless cats in general, are becoming more popular in the recent few years. Still, it seems to me that, in general, most cat owners don't know much about these cats. As a result, many people who would like to own a Sphynx cat choose another "safer" option instead because they are often prejudiced against Sphynx and hairless cat breeds.
This post will help you learn some facts about Sphynx cats that will, in turn, help you make an informed decision on whether you want one for your pet or not.
Sphynx Cat Characteristics
Fur color
No fur or fine hairs that can be white, cream, blue, black, orange, golden, cameo, etc.
Fur pattern
Solid, bicolor, calico, tabby, ticked, smoked, tortoiseshell, shaded.
Fur length
Very short
Eye color & shape
Large, lemon-shaped eyes that can be blue, green, yellow, brown, etc.
Length
Males 13"-15"
Females 11"-13"
Weight
Males 10-12 lbs
Females 8-10 lbs
Expected lifespan
10-15 years
| | |
| --- | --- |
| Temperament | Energetic, active, playful, curious, mischievous, intelligent, friendly, loving, and affectionate. |
| Kids and other pets | Friendly towards children and other pets. |
| Sociable and cuddly | Extroverted, sociable, and cuddly, even among strangers. |
| | |
| --- | --- |
| Feeding | Wet and dry commercial cat food |
| Grooming | Regular baths and skin wiping, nail trimming, and dental hygiene |
| Shedding | None to very little |
| Hypoallergenic | No |
History and Origins
Hairless cats might look unnatural to you, but their spontaneous appearance was documented several times throughout history. However, since these cats were quite weird, they were considered anomalies up until the early 20th century. Still, even then, the development and establishment of the Sphynx breed weren't easy or linear. 
Mexican Line
In 1903, Frances Simpson published The Book of The Cat, in which he mentioned two hairless cats. Their names were Dick and Nellie; one was gray, and one was white. They belonged to a man named F. J. Shinick from Albuquerque, New Mexico.
According to Simpson, these cats were obtained from the Native tribes around Albuquerque, and they were called "Mexican Hairless." There were even some speculations that these two hairless cats were the last of the ancient Aztec breed, and they died without having offspring.
Then, in 1950, two Siamese cats from Paris, France, produced offspring that included three hairless kittens. The same pair had a few more litters together, with each litter having several hairless kittens. However, when these two cats were mated with other Siamese cats, no hairless kittens were born.
Prune's Line
Meanwhile, new hairless kittens started appearing in Australia, Morocco, North Carolina, and Ontario. The Ontario case was particularly interesting and important for the development of the Sphynx breed. There, in 1966, a pair of domestic shorthairs produced a litter with one hairless male kitten named Prune.
One breeder got interested in these cats and obtained both the parents and Prune. They started a breeding program with the new breed being named Canadian Hairless. Prune was mated with his mother, and they produced one hairless kitten.
In 1970, the breed got provisional status from CFA. However, the breed faced many difficulties due to the narrow gene pool and the fact that many kittens died from undetermined health issues. As a result, in 1971, CFA withdrew its recognition of the Canadian Hairless breed.
The last descendant of Prune's line was sent to Holland to dr. Hugo Hernandez. Two hairless female cats were found in Toronto in 1978 and 1980, and they were believed to be related to Prune. In an effort to save Prune's line, they were sent to Holland to mate with last Prune's male descendant. Only one of them conceived, but she lost her litter. This was the end of Prune's line.
Pearson Line
Fortunately, this wasn't the end for the hairless cats. In 1975, two Minnesota farm owners, Milt and Ethelyn Pearson had a farm cat Jezebelle who gave birth to a hairless kitten named Epidermis. The next year, Jezebelle had another litter with a hairless kitten, which was named Dermis.
Both Dermis and Epidermis were sold to the Oregon cat breeder Kim Mueske. Mueske used these two cats to develop the Sphynx breed, and other breeders also showed interest in Jezebelle's kittens, often outcrossing them with breeds such as Cornish Rex.
Meanwhile, Shirley Smith, a Siamese cat breeder from Toronto, Ontario, found three hairless kittens abandoned on the street. She took them in and named them Bambi, Punkie, and Paloma. Eventually, these three kittens, along with Dermis and Epiderms, were the foundation of the modern Sphynx breed.
Finally, in 1998, CFA again recognized hairless cats as a new breed, and in 2002, Sphynx cats were allowed to participate in cat shows and championships. Since then, the popularity of these cats has continued to grow, but there is still some controversy surrounding these cats.
Sphynx Cat Personality
If you want your life to be more exciting, then getting a Sphynx cat might be one way to achieve that. With Sphynx cats, your days will never be boring. These cats are intelligent, curious, playful, active, and energetic. They have a good sense of humor, and you will often catch them acting like jesters.
However, Sphynxes are also loyal, devoted, sweet, and loving cats that enjoy attention. So, between jumping around and making mischief, your Sphynx will cuddle against you and enjoy your proximity. Some people even claim that Sphynx cats are so cuddly because they like your body's warmth. I like to believe that they are simply gentle and cuddly, but either way, expect a lot of cuddles. 
Sphynx Cat Appearance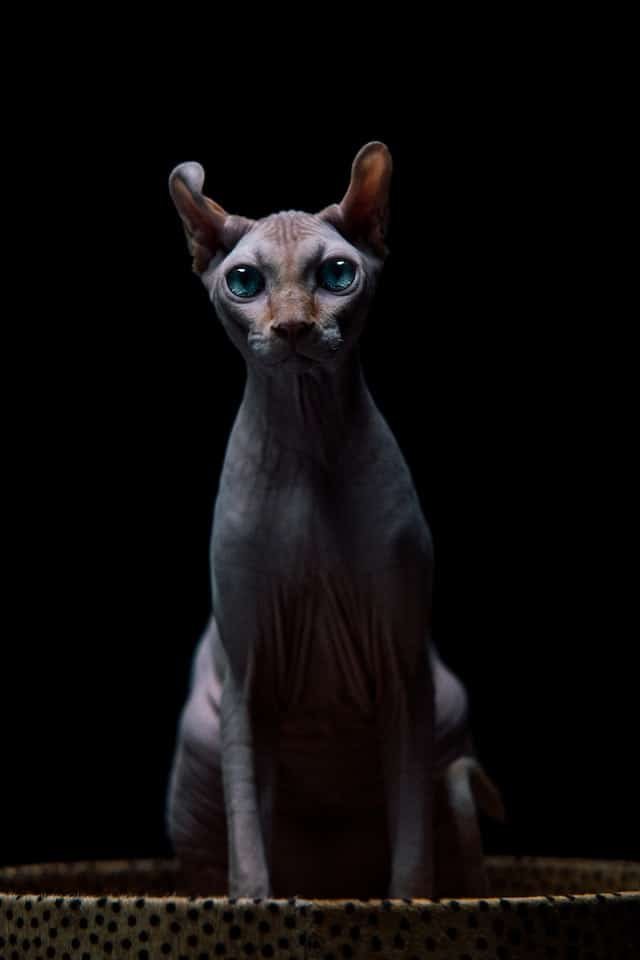 Some cat breeds won't capture your attention at first; you only learn about their quirks and peculiarities once you have one such cat. With Sphynx cats, that's certainly not the case. The moment you see one Sphynx cat, you will know how special and unique it is. Sphynxes' appearance certainly makes them stand out, and as you can see in the section above, their personality is just as unique.
Fur
What fur? Sphynx cats usually have little to no fur, and that's their defining feature. When they do have fur, it is soft and peachy and short enough to be barely noticeable. This fur is usually found on the feet, on the outer edges of ears, on the bridge of the nose, and on the tail. In most cases, Sphynx cats have no whiskers, but even when they do, these whiskers are short and sparse.
This sparse fur can come in several colors and patterns, though. It can be white, black, brown, blue, gray, orange, cream, etc. Additionally, some Sphynx cats have solid furs of only one color, but some can be bi-color, calico, tabby, smoked, tortoiseshell, ticked, or shaded.
The skin on Sphynx cats is thin and delicate, and it is very wrinkled. The color of the skin may vary, but it depends on the coat color if the coat exists. It can be a soft pink, cream, or gray, or it can come in several colors and have some interesting patterns, just like the fur.
Eyes
Sphynx cats have distinctive lemon-shaped and large eyes. These eyes are slightly slanted and widely set apart and can be of various colors, including blue, green, yellow, brown, gold, amber, etc. Some Sphynx cats are odd-eyes, i.e., their eyes are of different colors.
Size
Even though Sphynx cats failed to make our list of 12 Small Cat Breeds That Stay Small Forever, they are still relatively small. Of course, male Sphynx cats are larger than females, and they usually weigh 10-12 pounds, while female Sphynxes weigh 8-10 pounds. Additionally, male Sphynx cats have a body length of 13-15 inches on average, while females have bodies that are 11-13 inches long on average.
Other Body Characteristics
Sphynx cats are small to medium cats that have firm and muscular bodies with broad and rounded chests. Their abdomen is also full and rounded, which makes Sphynx cats look even more unique and, in my opinion, a bit goofy.
Hind legs are longer and stronger than the front legs. Both sets of legs are sturdy, strong, and muscular. The paws are oval with well-developed knuckles. Front paws have five toes each, while back paws have four toes each. The paw pads are so thick and soft that they look like little cushions. The tail is long, slender, and flexible, almost whip-like.
The head is wedge-shaped, with prominent cheekbones, distinctive whisker break, and a somewhat squared muzzle. The ears are large to very large, tapered, and sometimes mildly hairy.
Daily Life With Sphynx Cat
Despite looking high-maintenance, Sphynx cats aren't extremely demanding, but there are still some basic requirements that you need to fulfill to have a healthy and happy pet.
Feeding
Just like other cat breeds, Sphynx cats are obligate carnivores. This means that they can only eat meat-based foods and that giving them any other foods can be bad for their health. Their food needs to be rich in animal proteins and needs to have moderate amounts of fats.
You can choose between wet and dry commercial cat foods. Wet food is important for keeping your cat hydrated, while dry food is good for the teeth. Additionally, you can offer some raw meat to your Sphynx cat, but make sure that it is fresh and free of any pathogens. You can cook it a little bit, unseasoned, to kill any possible pathogens and to make it easier to chew for your cat.
Kittens and young Sphynx cats that are still growing need to eat 3-4 times a day, while the adult Sphynxes need to eat 2-3 times a day. Portion size depends on your cat's age, gender, and activity levels. Consult your vet to come up with optimal feeding frequency and portion size for your cat.
Grooming
Buying a brush or a comb for your Sphynx would be a failed investment, but that doesn't mean you should completely skip the grooming. Sphynx cats have oily skins, and they should be bathed or wiped on a regular basis.
If you don't wash or wipe your Sphynx cat's skin regularly, there will be an oil buildup, which is a perfect breeding ground for various bacteria, fungi, and other causes of skin diseases. To prevent those diseases from happening, gently wipe your Sphynx cat with a damp cloth every 3-4 days and bathe it at least every two weeks.
When wiping and bathing, make sure to be gentle, use lukewarm water, and only use those hygiene products that were specifically created for sphynx cats. That means that you shouldn't use your wet wipes to wipe your cat, and you shouldn't bathe it with your shampoos or soaps.
Nail trimming is another important aspect of your cat's hygiene. Trim your cat's nails every two weeks. Don't forget its teeth, either. Good and regular dental hygiene will keep your cat's teeth white, clean, and healthy. Many cat dental issues can be avoided with proper dental hygiene. Finally, make sure to gently clean your cat's ears every now and then.
Activity
Sphynx cats need to be active to stay happy and healthy. They need regular exercise and physical activity, so you should provide them with toys, cat scratching trees, and climbing trees. Since these cats also need attention and affection, just buying them things won't be enough to satisfy their needs. You will need to play with your Sphynx and cuddle, but that's something you should do with every cat breed.
Sphynx cats are friendly towards children and other pets, so if you have a child or another pet, they will be perfect play companions for your Sphynx! You can occasionally take your Sphynx out for a walk, but make sure to put a harness or leash on it so that you can't lose it. Also, protect their delicate skin from the sun or elements.
Most Common Sphynx Cat Health Issues
One of the biggest issues that Sphynx cats had to face as a breed was genetic diversity or the lack of it. As you could see from the story about this breed's origins and development, it was a rocky road with lots of ups and downs. 
Fortunately, Sphynx breeders managed to widen the gene pool of this breed while still keeping the desired traits. As a result, Sphynx cats are quite sturdy and healthy animals, but just like any other breed, they can be prone to some health conditions.
Hypertrophic Cardiomyopathy
This is a common condition among many cat breeds, including the Sphynx cats. It is characterized by the thickening of the heart's muscles. Such abnormally thick heart muscles aren't as efficient as normal heart muscles.
Over time, the heart needs more effort to pump blood into the body, and this strained way of functioning makes it weaker. The weaker the heart is, the more effort it needs to make, which makes it even weaker than before.
Eventually, your cat will suffer from various symptoms, such as lethargy, loss of appetite, panting, heavy breathing, and heart congestion, which is fatal in most cases. If you notice your cat acting weird, don't hesitate to bring it to the vet as soon as possible.
While there is no easy cure for this condition, your vet can help you slow down its progress. The sooner your cat gets its diagnosis, the better chances of survival and a good life it will have.
Hereditary Myopathy
This inherited condition is a result of a malfunction in transmitting signals from a cat's neurons to its muscles. The affected cats suffer from muscle weakness, and they are often unable to raise their head.
Other symptoms include head bobbing, unusual gait while walking, and problems with yawning, meowing, chewing, and breathing. Additionally, cats that suffer from hereditary myopathy can experience problems with urinating, defecation, and other daily activities.
It is easy to see how bad this condition might be and how devastating could be its effects on your cat's quality of life. That's why you should take your cat to the vet as soon as you notice any of these symptoms. With proper care and therapy, this condition won't be cured but will be put under control, and your cat will lead a much happier life.
Urticaria Pigmentosa
Sphynx cats, just like other hairless cat breeds, have sensitive skins prone to various diseases and conditions. One of them is urticaria pigmentosa, a condition characterized by raised lesions on the skin that can become itchy and inflamed.
If you notice unusual lesions on your cat's skin, or if you notice your cat scratching excessively, it is time to take it to the vet. If your vet concludes that your cat indeed has urticaria pigmentosa, they will treat it with anti-inflammatory medications.
Periodontal Disease
This is a common dental issue among cats, and it is characterized by redness, infection, and swelling of the gums surrounding the cat's teeth. It can cause severe issues if left untreated, so it is important to keep an eye on possible symptoms.
If your cat has bad breath, reddened and swollen gums that are also bleeding, and refuses to eat, those are some of the most common symptoms of periodontal disease. Other symptoms include drooling, loose or missing teeth, mouth sensitivity, etc.
If you notice any of these signs, take your cat to the vet. The vet will be able to clean your cat's teeth and provide relief for the periodontal symptoms. They will also help you prevent this condition from happening again in the future. Proper dental hygiene will be your closest ally in keeping your cat's teeth and gums healthy.
Sunburn/Frostbite
For thousands of years, fur has protected mammals from harsh sun, rain, snow, and dirt. Since humans evolved in a way that they only have sparse hairs and only on some body parts, w lost that protection. That's why we invented clothes, sun protection, umbrellas, etc.
Hairless cats are similar to our ancestors, those that were the first to lose thick furs. If they go outside during summer, they will get sunburned, and if they go outside during fall or winter, they will get wet and cold. In more extreme cases, they can even get frostbite.
Prevention is of utmost importance if you decide to let your Sphynx cat outside. Consult your vet and visit your local pet store to buy sunscreen for your cat. Also, you need to buy some warm and waterproof cat clothes for winter.
Of course, you can avoid sunburns, frostbite, and similar issues if you keep your Sphynx inside all of the time. But, if you like to take it for a walk every now and then, you should protect it against any damage to its sensitive skin.
Sphynx Cat Name Suggestions
Sphynx cats are quite cool, and they deserve equally cool names. As with many other breeds, you can come up with a name that will reference your cat's origins, it's physical features, or you can simply choose a name that sounds cool or cute to you.
Bubblegum
Snuggles
Worm
Amelia
Charlotte
Oliver
Anubis
Seth
Taco
Mr./Ms. Wrinkles
Buying or Adopting Sphynx Cat
Sphynx cats aren't so common in shelters, but it's not impossible to find one waiting for adoption. In this case, you will have to find $75-$150 for the adoption fee. However, if you decide to buy a Sphynx cat from a breeder, the price will be much, much higher.
Pedigreed and purebred Sphynx cates cost anywhere between $1700 and $4400, but that price can go up to $10000 for specimens with an unusual color or other valued traits. Make sure that you are buying your Sphynx cat from a reputable breeder, and always ask for a health certificate.
Frequently Asked Questions
Is a Sphynx cat a good pet?
If you want a funny and intelligent pet that will also enjoy your cuddles, then this cat is certainly a great pet choice.
Do Sphynx cats need a lot of care?
They have a bit different grooming requirements than most other cat breeds, but they aren't too demanding.
What is the lifespan of a Sphynx cat?
10-15 years.
Do Sphynx cats purr?
Yes, especially when they curl near their owners.
Do Sphynx cats like baths?
Sphynx cats enjoy baths, especially if you bathe them since they were kittens, and if you make sure that they are always comfortable during bathtime.
Sphynx Cat Alternatives
If you think that Sphynx cats are the only hairless cat breed in the world, you are wrong. There are several other hairless breeds, and they can be great alternatives to Sphynx cats.
So, if, for some reason, you want a hairless cat but you don't want a Sphynx cat, you should consider getting a Peterbald cat or a Donskoy cat. Both these breeds are hairless, and their other physical traits are similar to the Sphynx cat's traits.
Alternatively, you can get a Cornish Rex or a Devon Rex cat. While these breeds aren't hairless, they were used for outcrossing with the first Sphynx cats, and they share some similarities, such as head shape, ear size, and general body proportions.
Finally, since many hairless kittens in the last century came from Siamese parents, you can always get a Siamese cat.
Sphynx Cat Fun Facts
Since they don't have furs to keep them warm, Sphynx cats have a higher average body temperature than "normal" cats.

They are often compared to monkeys because of their unusual appearance, large eyes, long tails, and jester-like behavior.

Even though they usually lack whiskers, Sphynx cats have tiny hairs called "cilia," and these hairs help with sensory perception.

Many cat breeders and experts claim that Sphynx cats have a high pain tolerance. Some Sphynx cats even get tattoos and piercings. However, while it may look cool and interesting, don't put your cat through such procedures.

Sphynx cats have conquered not only the hearts of many cat owners but also Hollywood and pop culture in general. They appeared in Austin Powers movies, Lady Gaga's music videos, The Sims video game, and many other TV shows, movies, etc.
Summary
Hairless cats are still controversial and even deterring for many people, but they are slowly becoming more mainstream. After all, it is hard to resist such cute goofballs just because they don't have furs. I read somewhere that what Sphynx lack in fur, they compensate in personality, and I fully agree.
Only a few months ago, if someone asked me if I would get myself a hairless cat, I would say, "Eww, no." However, after I learned more about several hairless cat breeds, I fell in love with them. I like them so much now that I am lowkey considering getting a Sphynx cat. Hopefully, this post will motivate you to do the same!